Definition
Fast Guide to acronyms used in manufacturing
These acronyms are often used in internal communications within a manufacturing environment.
7W: seven wastes
ABB: activity-based budgeting
ABC: activity-based costing
ABM: activity-based management
ABVS: automated best value system
ACV: all commodity volume
ADC: automated data collection
ADE: qutomated data entry
ADP: automatic data processing
AID: automatic identification
AIM: application integration middleware
AIMS: agile infrastructure for manufactured systems
AMT: advanced manufacturing technology
AMT: The Association for Manufacturing Technology
AOI: automated optical inspection
AP: accounts payable
APICS: American Production and Inventory Control Society
APO: advanced planning and optimization
APQP: advanced product quality planning
APS: advanced planning and scheduling
APS: advanced planning systems
AR: accounts receivable
ASN: advanced shipping notice
ASQ: American Society for Quality
ASRS: automated storage retrieval systems
ASTM: American Society for Testing and Materials
ATE: automated test equipment
ATR: automated trouble reporting
ATO: assemble to order
ATP: advanced technology program
ATP: available to promise
AXI: automated X-ray inspection
AVL: approved vendor list
BAM: Bottleneck Allocation Methodology
BIC: Best In Class
BIST: Built In Self Test
BMP: Best Manufacturing Practices
BOH: Balance On Hand
BOM: Bill Of Materials
BPEL: Business Process Execution Language
BPMN: Business Process Modeling Notation
BPR: Business Process Reengineering
BTF: Build To Forecast
BTO: Build To Order
BTS: Build To Stock
B2B: Business to Business
B2C: Business To Consumer
CAD: Computer-Aided Design
CAE: Computer-Aided Engineering
CAFE: Corporate Average Fuel Economy
CAGR: Compound Annual Growth Rate
CAIV: Cost As (An) Independent Variable
CALS: Continuous Acquisition and Life-Cycle Support
CALS: Commerce At Light Speed
CAM: Computer-Aided Manufacturing
CAM: Customer Asset Management
CAM-I: Consortium for Advanced Manufacturing -- International
CAMU: Computerized Assembly Mock Up
CAPOSS: CApacity Planning and Operation Sequence Scheduling
CASA: Computer and Automated Systems Association
CASE: Computer-Aided System Engineering
CBSA: Component Based Solution Assembly
CBT: Computer-Based Training
CCB: Change Control Board
CCM: Color Changing Material
CCR: Central Contractor Registration
CEMS: Contract Electronic Manufacturing Services
CERCLA: Comprehensive Environmental Response, Compensation and Litigation Act
CFAR: Collaboration Forecasting and Replenishment
CFD: Computational Fluid Dynamics
CFM: Continuous Flow Manufacturing
CG: Consumer Goods
CGMP: Current Good Manufacturing Practices
CI: Continuous Improvement
CIDM: Customer-Integrated Decision Making
CIPE: Compressed Integrated Product Engineering
CLASS: Capacity Loading and Operation Sequence Scheduling
CLM: Council For Logistics Management
CM: Contract Manufacturer
CM: Change Management
CM: Configuration Management
CMRP: Capacitated Material Requirements Planning
CNC: Computer Numerical Control
COA: Continuous Ordering Agreement
COB: Chip On Board
CAFC: Container on Flat Car
COB: Close of Business
COGS: Cost of Goods Sold
COO: Cost of Ownership
COS: Class of Service
COTS: Commercial Off The Shelf
CP: Cost Performance
CPIM: Certified in Production and Inventory Management
CPM: Certified Purchasing Manager
CPPS: Cost Performance Products Sector
CQA: Certified Quality Auditor
CQE: Certified Quality Engineer
CRC: Cyclic Redundancy Check
CRM: Customer Relationship Management
CRP: Capacity Requirements Planning
CRP: Continuous Replenishment Program
CRT: Current Reality Tree
CSBB: Client Side Browser Based
CSI: Customer Satisfaction Index
CSP: Commerce Service Provider
CTE: Committee on Trade and the Environment
CTG: Council for Trade in Goods
CTO: Configure To Order
CTP: Capability To Promise
DAMA: Design Anywhere Manufacture Anywhere
DAQ: Data Acquisition
DBMS: Database Management System
DC: Distribution Center
DCS: Distributed Control System
DDE: Dynamic Data Exchange
DEM: Dynamic Enterprise Modeling
DES: Distributed Execution System
DFA: Design for Assembly
DFAA: Design for Automated Assembly
DFB: Distributed Feedback
DFD: Design for Disassembly
DFE: Design For Environment
DFL: Demand Flow Leadership
DFM: Demand Flow Management
DFM: Demand Flow Manufacturing
DFM: Design For Manufacturability
DFS: Distributed Factory System
DFSC: Design for Supply Chain
DFT: Demand Flow Technology
DMD: Direct Metal Deposition
DMI: Digital Migration Interface
DNC: Direct Numerical Control
DOC: Department of Commerce
DOD: Department of Defense
DOE: Department of Energy
DOE: Design of Experiments
DOL: Department of Labor
DOLAP: Desktop OnLine Analytical Processing
DP: Design Postponement
DRC: Design Rule Checking
DRP: Distribution Requirements Planning
DSB: Dispute Settlement Body
DSC: Digital Still Camera
DSO: Days Sale Outstanding
DSOM: Distributed System Object Model
DSP: Digital Signal Processor
DSRP: Demand Solutions Requirements Planning
DSS: Decision Support System
DTP: Distributed Transaction Processing
DUT: Device Under Test
DVD: Digital Video Disk
DW: Data Warehousing
EAI: External Application Interface
EBR: Electronic Batch Record
EBXML: Electronic Business XML
EC: Electronic Commerce
EC: Engineering Change
ECC: Error Correction Code
ECM: Engineering Change Management
ECN: Electronic Change Notice
ECO: Engineering (or Electronic) Change Order
ECR: Efficient Consumer Response
ECR: Engineering Change Request
ECRC: Electronic Commerce Resource Center
EDA: Electronic Document Access
EDA: Electronic Design Automation
EDA: Engineering Design Aids
EDGAR: Electronic Data Gathering, Analysis and Retrieval
EDI: Electronic Data Interchange
EDIFACT: Electronic Data Interchange for Administration, Commerce and Transport
EDM: Electronic Discharge Machine
EDM: Electronic Data Management
EDMS: Engineering Document Management Systems
EEOC: Equal Employment Opportunity Commission
EES: Engineering Execution Systems
EFI: Electronic Freight Invoice
EFT: Electronic Funds Transfer
EIC: Earned Income Credit
EIS: Executive Information System
EISA: Extended Industry Standard Architecture
ELV: End of Life Vehicle
EMAS: Eco-Management and Audit Scheme
EMI: Early Manufacturing Involvement
EMS: Effective Management Systems
EMS: Enhanced Messaging Service
EMS: Environmental Management System
EMS: Electronic Manufacturing Services
E&O: Excess and Obsolete
EOQ: Economic Order Quantity
ERA: Electronic Remittance Advice
ERC: Engineering Reseach Center
ERP: Enterprise Resource Planning
ERS: Evaluated Receipt Settlement
ESE: Environmentally Sustainable Electronics
ETM: Enterprise Transportation Management
ETO: Engineer To Order
ETP: Enterprise Transportation Planning
EV: Electric Vehicle
EVA: Economic Value Added
EVM: Earned Value Management
EZ/EC: Empowerment Zone/Enterprise Community
FA: Flexible Automation
FAS: Final Assembly Schedule
FASAB: Federal Accounting Standards Advisory Board
FBE: Framework Based Environment
FCA: Flip Chip Assembly
FCP: Finite Capacity Planning
FCS: Finite Capacity Scheduling
FDI: Foreign Direct Investment
FEM: Finite Elements Method
FIFO: First In, First Out
FIP: Factory Information Protocol
FIS: Factory Information System
FLSA: Fair Labor Standards Act
FMEA: Failure Mode and Effect Analysis
FMS: Flexible Manufacturing System
FP: Finite Planning
FPDS: Federal Procurement Data System
FPI: Federal Prison Industries
FPT: Fine Pitch Technology
FRA: Federal Railroad Administration
FROG: Free Roaming On Grid
FRT: Future Reality Tree
FRU: Field Replaceable Units
FSAN: Full Services Access Network
FTA: Federal Transit Authority
GAAP: Generally Accepted Accounting Principles
GAO: General Accounting Office
GATT: General Agreement on Tariffs and Trade
GATS: General Agreement on Trade in Services
GDP: Gross Domestic Product
GEM: Generic Equipment Model
GMP: Good Manufacturing Practices
GMROI: Gross Margin Return on Investment
HASA: Highly Accelerated Stress Audit
HH: Hand Held
HMD: Head Mounted Display
HMI: Human Machine Interface
HP: High Performance
HPCC: High Performance Computing and Communications
HPPS: High Performance Product Sector
HPV: High Production Volume
HR: Human Resources
HRM: Human Resource Management
HSM: Hierarchical Storage Manager
HUD: Heads Up Display
IDIS: Integrated Disbursement and Information System
IG: Inspector General
IMCS: Inventory Management and Control System
IMT: International Mobile Telephone
IMTI: Integrated Manufacturing Technology Initiative
IMS: Intelligent Manufacturing Systems
I/O: Input Output
IPC: Institute for Interconnecting and Packaging Electronic Circuits
IPPD: Integrated Product and Process Development
IPR: Intellectual Property Rights
IPS: In-Plan Switching
IPT: Integrated Product Team
IRI: Industrial Research Institute
IRM: Integrated Resource Management
IS: Information System
ISO: International Standards Organization
ISV: Independent Software Vendor
ITA: Information Technology Agremeement
ITAC: International Telework Association and Council
ITS: Intelligent Transportation System
ITSS: Information Technology Solutions Shop
ITU: International Technical Union
JIT: Just In Time
KBE: Knowledge-Based Engineering
KGD: Known Good Die
KPI: Key Performance Indicator
LC: Low Cost
LCA: Life Cycle Assessment
LCC: Leadless Chip Carrier
LCC: Life Cycle Cost
LCL: Less Than Container Load
LCPC: Life Cycle Product Cost
LCPC: Life Cycle Product Cost
LMDS: Local Multi-Point Distribution System
LNA: Local Noise Amplifier
LP: Lean Production
LSI: Large Scale Integration
LTL: Less Than Truckload
LVS: Layout Verification Systems
MADE: Manufacturing Automation and Design Exploration
MC: Mass Customization
MCS: Manufacturing Control System
MEMS: Micro-electromechanical Systems
MEP: Manufacturing Extension Partnership
MES: Manufacturing Execution System
MESA: Manufacturing Execution System Association
MMI: Man Machine Interface
MPS: Master Production Schedule
MRP: Manufacturing Resource Planning
MRP: Materials Requirement Planning
M&S: Modeling and Simulation
MSDS: Material Safety Data Sheet
MTO: Make To Order
MTS: Make To Stock
MTTR: Mean Time To Restore
MV: machine vision
NCMS: National Center for Manufacturing Sciences
NIST: National Institute of Standards and Technology
NMTA: National Machining and Tooling Association
NPI: New Product Introduction
NRLA: National Labor Relations Board
NTR: Normal Trade Relations
OASIS: Organization for the Advancement of Structured Information Standards
OCC: Office of the Comptroller of the Currency
ODM: Original Design Manufacturer
ODM: Original Device Manufacturer
ODS: Ozone Depleting Substance
OECD: Organization for Economic Cooperation and Development
OEE: Original Equipment Effectiveness
OEM: Original Equipment Manufacturer
OFPP: Office of Federal Procurement Policy
OLTP: On Line Transaction Processing
OMB: Office of Management and Budget
OOP: Out Of Production
OPC: OLE for Process Control
OPT: Optimized Production Technology
OSHA: Occupational Safety and Health Administration
OTC: On-Time delivery to Commit date
OTCR: On-Time delivery performance to Customer Request Date
PA: Power Amplifier
PAC: Production Activity Control
PBT: Persistent, Bioaccumulative and Toxic
PDM: Product Data Management
PI: Principal Investigator
PID Problem Identification Document
PIM: Product Information Management
PIP: Partner Integration Process
PLM: Product Lifecycle Management
POM: Production/Operations Management
POS: Point of Sale
PP&E: Property, Plant & Equipment
PR: Process Reengineering
PRONet: Procurement Marketing and Access Network
PRT: Pre-requisite Tree
PTAC: Procurement Technical Assistance Center
PTO: Patent and Trademark Office
QA: Quality Assurance
QB: Quality Breakdown
QC: Quality Control
QFP: Quad Flat Package
QR: Quick Response
RAP: Revenue Acquisition Process
R&D: Research and Development
RDF: Resource Description Framework
RDT&E: Research, Development, Testing & Evaluation
RMA: Return Material (or Merchandise) Authorization
ROI: Return On Investment
ROIC: Return On Invested Capital
RONA: Return On Net Assets
ROP: Reorder Point
ROU: Record Of Understanding
RPM: Rapid Response Manufacturing
RSC: Retail Service Center
RTD: Research and Technical Development
RTM: Read The Manual
SCC: Supply Chain Council
SCM: Supply Chain Management
SCOR: Supply Chain Operations Reference model
SCR: Synchronized Customer Response
SEC: Securities and Exchange Commission
SFA: Sales Force Automation
SGA: Selling, General and Administrative expenses
SIG: Special Interest Group
SIV: Signal Integrity Verification
SKU: Stock Keeping Units
SLICE: Simple Low-Cost Innovative Engine
SMART: Self Monitoring Analysis and Reporting Technology
SME: Society of Manufacturing Engineers
SMWT: Self Managed Work Teams
SOP: Sales and Operations Planning
SOP: Standard Operating Procedure
SOP: System On a Package
SOW: Statement of Work
SPC: Statistical Process Control
SPM: Standard Process Modules
SPS: Standard Procurement System
SRM: Standard Reference Material
STARS: Standard Accounting and Reporting System
STEP: Standard for the Exchange of Product model data
SWIFT: Simulated Work Input and Flow Time
SWOT: Strengths, Weakness, Opportunity and Threats Analysis
TACT: Total Average Cycle Time
TCM: Time Critical Manufacturing
TCM: Transportation Control Measures
TDC: Total Delivered Cost
TDM: Team Data Manager
TEWE: Technology for Enterprise-Wide Engineering
TIG: Technology Implementation Group
TIM: Test Inspection Measurement
TLA: Three Letter Acronym
T&M: Tools and Methodology
TOPS: Team Oriented Problem Solving
TPA: Technology and Product Assurance
TPI: Total Profit Improvement
TPM: Total Productive Maintenance
TPOP: Time-Phased Order Point
TQC: Total Quality Control
TQM: Total Quality Management
T/R: Transmit / Receive
TRI: Toxic Release Inventory
TRT: Transition Tree
TSCA: Toxic Substances Control Act
TVA: Throughput Value Added
TW: tin whiskers
TWG: Technology Working Group
UC: Unit Cost
USITC: United States International Trade Commission
VAD: Value Added Distribution
VAR: Value-Added Reseller
VE: Value Engineering
VFIIP: Virtual Factory Information Interchange Project
VMI: Vendor Managed Inventory
VPDM: Virtual Product Data Management
VPM: Virtual Product Model
VRML: Virtual Reality Modeling Language
WARN: Workers' Adjustment and Retraining Notification Act
WBS: Work Breakdown Schedule
WCM: World Class Manufacturing
WIMP: Woefully Inept Manufacturing Process
WIP: Work in Process
WMS: Warehouse Management System
WTO: World Trade Organization

Download this free guide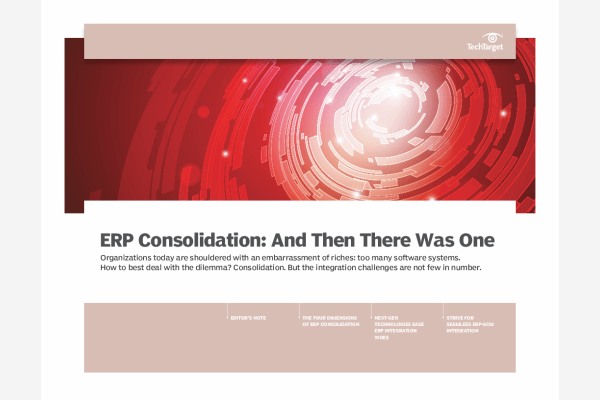 The Four Dimensions of ERP Consolidation
Organizations today are shouldered with an embarrassment of riches: too many software systems. How to best deal with the dilemma? Consolidation. But the integration challenges are not few in number.
By submitting your personal information, you agree that TechTarget and its partners may contact you regarding relevant content, products and special offers.
You also agree that your personal information may be transferred and processed in the United States, and that you have read and agree to the Terms of Use and the Privacy Policy.
Dig Deeper on Manufacturing ERP industry news
PRO+
Content
Find more PRO+ content and other member only offers, here.